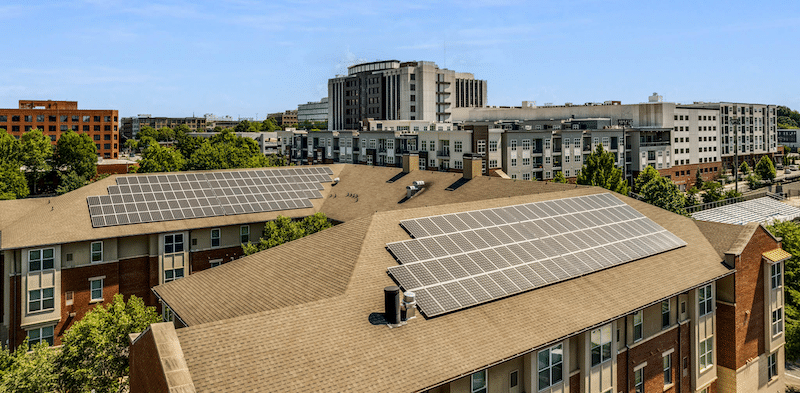 15 Aug

What Is the Green and Resilient Retrofit Program?

The US Department of Housing and Urban Development (HUD) recently announced the over $4 billion Green and Resilient Retrofit Program (GRRP), part of the Inflation Reduction Act. The GRRP is designed to improve energy and water efficiency, make buildings more resilient to extreme weather and natural disasters, and reduce greenhouse gas emissions. HUD-assisted multifamily properties are eligible for grants and loans to improve their buildings. 
At-A-Glance
There are three categories in GRRP: Elements Awards, Leading Edge Awards, and Comprehensive Awards. Applications for these programs are currently open until 2024.
The

Elements

program is for projects that are already moving forward with planning and financing specific individual improvements that focus on efficiency, reducing carbon emissions, renewable energy, and/or climate resilience. While green building certification is not required for Elements, it contributes to applicant ranking and is therefore highly recommended.

Developers are eligible for a maximum of $40,000 per unit or $750,000 per project.

Leading Edge

projects include significant renovation that will meet one of several green certification programs. Developers are eligible from a maximum of $60,000 per unit or $10,000,000 per project.

Comprehensive

projects are typically in the early stages of planning and intend to significantly improve efficiency and climate resilience. Developers are eligible for a maximum of $80,000 per unit or $20,000,000 per project. 
Am I eligible?
In order to take advantage of these programs, a project must be receiving HUD assistance through Sections 8, 202, 811, or 236.  Projects may apply for funding in only one of the three categories.
Check out HUD's FAQ page and GRRP fact sheet for more information on eligibility.
Which improvements qualify?
Improvements available for funding through the Elements program include:
Solar Photovoltaic Systems, Geothermal, or Community Solar Installations

Car charging stations

18 SEER or higher heat pump systems

Heat Pump Water Heaters

ENERGY STAR Windows

Upgrading wiring for electrifications

Responsibly Sourced Materials

Insulation meeting 2021 IECC

Building Commissioning

Converting appliances from gas to electric

Battery backup or clean generators

Emergency community shelter with backup power

Emergency potable water storage

Building envelope improvements

Resilience Measures Based on Local Climate:

Floodproofing

Storm resistance

Heat resistance

Cold resistance

Wildfire resistance
Leading Edge projects must be certified through one of several green building programs and show an overall 25% reduction in the building's ENERGY STAR score.
The Comprehensive program requires working directly with HUD professionals on planning significant energy efficiency improvements. This program is still in development, more details will be available in the near future.  
How can I benefit from the program?
Projects may apply for either grants or loans to complete their proposed improvements.  This funding will assist in completing improvements that otherwise would not fit in a project budget to move towards decarbonization, improved resilience, and energy and water conservation.  
The Fine Print / Special Considerations
If you are looking into the GRRP for your project, here are a few points to consider:
Davis Bacon Wage Rates (for Leading Edge and Comprehensive)

Build America/Buy America requirements

Section 3 employment requirements

Post Renovation Utility Benchmarking

Extend affordability a minimum of 5 years beyond existing requirements

Resident engagement
How can SK Collaborative help?
SK Collaborative can provide the required green building certification, building verification and commissioning, energy audits, energy benchmarking, ENERGY STAR Scores, and other services to assist in preparing your application and completing the program requirements. 
Contact us today to learn more about our services.