18 May

Understanding the New HVAC Energy Efficiency Standards

On January 1, 2023, the US Department of Energy (DOE) increased the residential and commercial HVAC equipment energy efficiency requirements, as well as the testing procedures for establishing efficiency ratings. 

This change directly impacts HVAC equipment dealers, contractors, distributors, manufacturers – who can incur infractions for noncompliance – as well as developers, builders, and homeowners installing HVAC equipment into their projects.

2015 vs. 2023 Residential Minimum Standards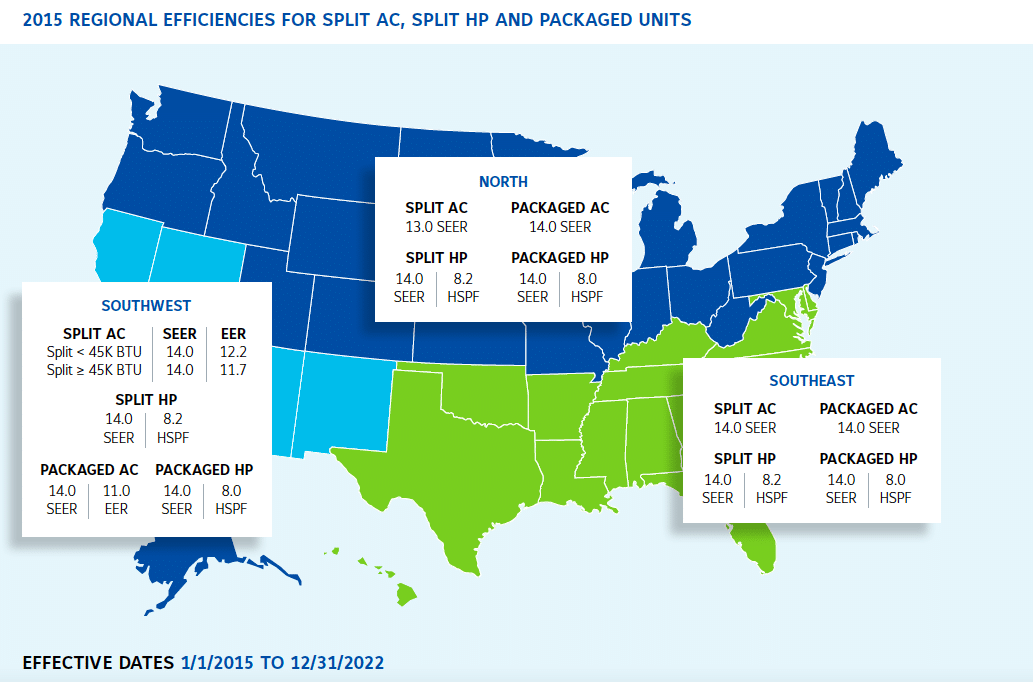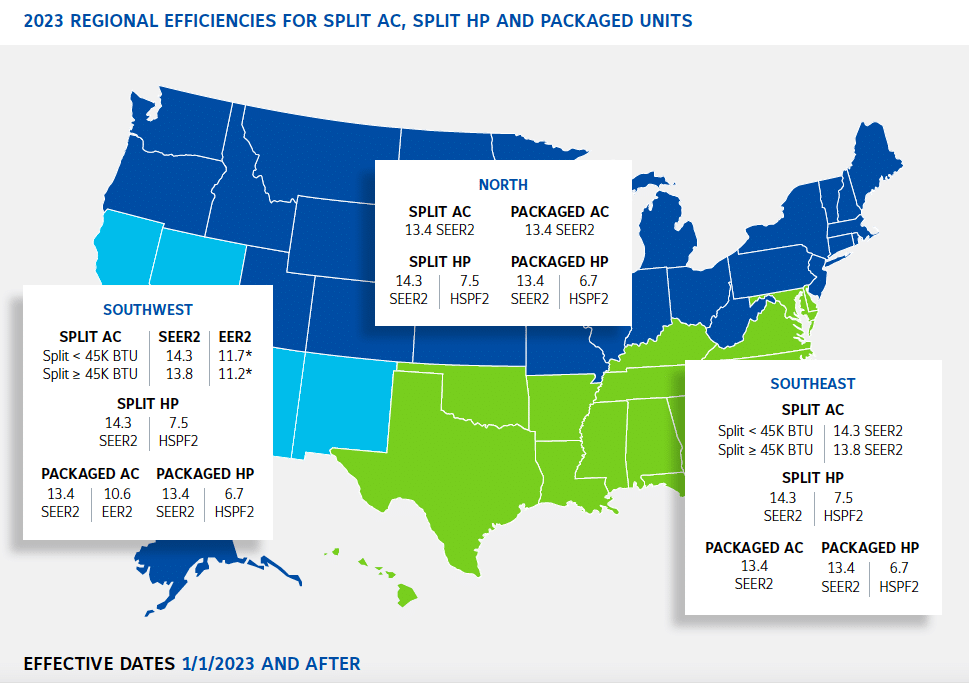 Source: Johnson Controls
What's Changed?
Previously, air conditioning (AC) and heat pump systems were rated in SEER (Seasonal Energy Efficiency Ratio) or EER (Energy Efficiency Ratio) and HSPF (Heating Seasonal Performance Factor). The minimum efficiency requirements for split systems in the country was 14 SEER for Air Conditioning (AC) and 8.2 HSPF for heat pumps, and 13 SEER for AC units in the Northern US. Packaged heat pump units, those with combined condensers and air handlers were required to be 14 SEER and 8.0 HSPF nationally.
The DOE reviews the efficiency requirements every six years. The new ratings that went into effect this year account for adjusted testing standards – running HVAC equipment at higher external static pressures to more accurately simulate real-world conditions. The efficiency ratings have changed to SEER2, EER2, and HSPF2 to reflect this change. 
As of January 1, HVAC equipment must meet these new testing standards and higher efficiency levels, based on either manufacture or installation date. There are specific requirements for split systems as well as smaller package units (<65,000 Btu), as well as different requirements based on climate region – i.e. hotter climates require more efficient cooling equipment than cooler climates. The rules are a bit complicated, so hold on tight. 

Source: Johnson Controls
Air Conditioning Efficiencies
In the Northern US, 13 SEER AC equipment manufactured before January 1, 2023 may be installed indefinitely, but new equipment must be 13.4 SEER2. 
In the Southern US, equipment manufactured before January 1, 2023 is not grandfathered into the new requirements, and may not be installed. Split System equipment smaller than 45kBtu (equivalent to about 4 tons) installed on or after January 1 must meet the new requirement of 14.3 SEER2 or 15 SEER. Larger systems must be 13.8 SEER2 or better. Package systems must be 13.4 SEER2 throughout the country, with the same manufacture date or install date criteria as noted above. Options to install AC systems in the Southwest US allows for EER2 values of 10.6 to 11.7 instead of SEER2.
Heat Pump Efficiencies
Split System 14 SEER Heat Pumps manufactured before January 1, 2023 may be installed throughout the country. Any equipment manufactured on or after January 1, 2023 must meet the new efficiency requirements of 14.3 SEER2 and 7.5 HSPF2. Package systems must meet 13.4 SEER2 and 6.7 HSPF2.
The 2023 efficiency ratings are based on new testing procedures which will more accurately predict conditions of installed equipment which result in slightly lower efficiencies for most equipment, requiring that new equipment be built to higher efficiency standards. 
Refrigerant Changes
All equipment manufactured on or after January 1, 2023 will be designed to use a new refrigerant, R-454b (commonly but incorrectly referred to as Freon) that has a lower global warming potential than the previously used product, R-410a. The older refrigerant will be available for a period of time for maintenance of existing equipment, however as it is phased out, the cost will likely rise, so look to purchase equipment using R-454b to both reduce the environmental impact and for lower maintenance costs. We expect the cost of the discontinued refrigerant to rise as it is phased out.
How Does this Impact Project Teams?
Unless the project is located in a northern state and getting pre-2023 manufactured equipment (see note above), all projects – both DIY installations as well as those performed by a professional HVAC service provider – must use equipment that meets the new standard. 
Projects applying for federal green financing, rebates, and tax credits – may also need to meet the new requirements for HVAC equipment to be eligible for the programs.
There are DOE penalties for dealers and contractors installing non-compliant equipment, distributors supplying noncompliant equipment to contractors, and manufacturers knowingly selling non-compliant equipment.
If you believe your air conditioner installer has installed an illegal air conditioner, you may report it to DOE at energyefficiencyenforcement@doe.gov or 202-287-6997.