10 Mar

Women in Construction Week

"Whenever I step onto a construction site, I'm often greeted by a poster of a man with all of his personal protective equipment on: hardhat, gloves, glasses, safety vest. I rarely see a reference to women being on site at all, either in the language or pictures," says Rachel De Las Casas, SK Collaborative Green Building Verifier. 
The construction industry is one of the most male-dominated fields in the United States. Men tend to operate the equipment, lay the brick masonry, do the electrical work, HVAC, plumbing, and so on. It's often a man you'll shake hands with, and who will introduce himself as Superintendent, or Project Manager. 
In fact, only 11% of construction workers are women, even after an impressive 53% growth in the past decade! 
Let's make it clear: women can do all of these jobs. At SK, we have worked with female architects, engineers, superintendents, project managers, and trade workers of all types. However, the overwhelming gender disparity can be intimidating to women interested in entering the field. And being the only woman in the room (or on the construction site) can also feel isolating. 
That is why for this year's Women in Construction Week (March 6-11), we want to not only highlight the incredible women at SK Collaborative working in green building, but also uplift and support other women working in the field or considering a career in construction. 
One of the ways we are doing this is through an annual sponsorship for women in construction to attend the Georgia Affordable Homes Coalition (GAHC) Conference. For the second consecutive year, we are partnering with the Atlanta Women's Affordable Housing Network to support one woman working or pursuing a career in the affordable housing industry by covering registration, travel, and lodging expenses for the GAHC 26th Annual Conference in March 2023.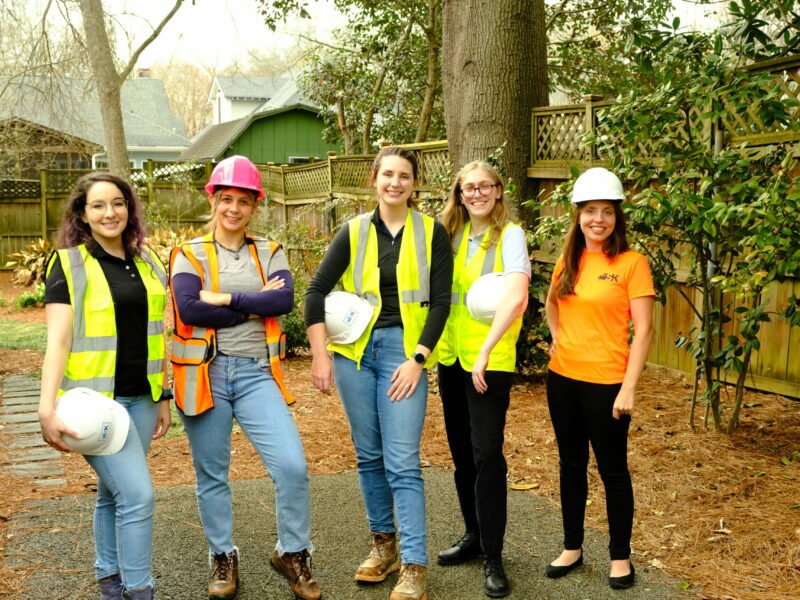 Deborah Lin Perez, Rachel De Las Casas, Emily Bunce, Jennifer Goldberg, and Sarah Kelty 
As a construction consulting company, we are excited to have a staff that is 50% women, with 40% of our managerial positions also held by women.
Our employees come from a range of backgrounds: architecture, urban planning, engineering, and even public health! Like many other sections of construction, green building takes many skills, and a lot of on-the-job learning. The diversity in our backgrounds have allowed us to work together better by tackling problems from different perspectives.
Women of SK Collaborative
Emily Bunce, Green Building Project Manager
 is an Atlanta native and graduated from Georgia Tech with a Civil Engineering degree. Her background is in building enclosure consulting and she earned her EIT and REWO. In her spare time, she spends time outdoors and explores different Atlanta hiking spots.
Jennifer Goldberg, Green Building Project Manager
is a graduate from Georgia Tech with a bachelor's degree in Civil Engineering. She has worked in LEED consulting, which led her to pursue the field of sustainable construction. Jennifer also tap dances, and makes all sorts of art projects.
Sarah Kelty, Project & Marketing Manager
is a creative and dynamic professional with over a decade of experience in program development, community engagement, and outcome management. She holds an MSP in Urban & Regional Planning from Florida State University's Department with a specialization in Environmental Planning. When not at work, you can find Sarah exploring Georgia's outdoor recreation areas or getting her hands dirty in the garden.
Rachel De Las Casas, Green Building Consultant
started as our first intern, and quickly fell in love with green building for its interdisciplinary approach. She came onboard full-time after graduating from Agnes Scott College with a B.A in Public Health and looks forward to a long career in building better for people and our planet.
Deborah Lin Perez, Single Family Program Manager
is an architectural designer and green building professional dedicated to affordable housing and sustainability. She served as an Enterprise Architectural Rose Fellow at Atlanta Habitat for Humanity, and as a Fair Housing and Accessible Design Specialist with the Puerto Rico Housing Finance Authority. Deborah also enjoys oil painting and drawing!
Making a Better Industry for All
How can construction companies be more gender-inclusive? 
This can be as simple as making space for women (and non-binary) people in conversations, and on the job site. Do the women in your company feel comfortable speaking up at meetings? Is their input regarded as highly as that of their male counterparts? Having an employee feedback system to monitor topics like these and consistently revisiting any issues that arise can help create an environment where non-male employees feel equally respected in a male-dominated field.
Gender inclusive language and imagery on job sites also detracts from the idea that construction is a "man's job." Does your company only have "Men at Work" signs? Are PPE guidances only depicting men? Terms that are gender exclusive should be actively revisited to be more inclusive. For example, using "tradesperson" instead of "tradesman". If there are women on your site, they should not feel like the odd one out. And if there aren't women on your site at all, ask yourself why.  
If you find that your hiring process gets overwhelmingly male candidates, consider making an effort to recruit from more diverse talent pools. For example, strategies could include posting job advertisements on online boards for women-specific industry networks, attending in person career fairs and professional events for women, or spreading the word within referral networks for diverse organizations.
Advocating for women's professional development and building opportunities for mentorship can also help empower employees at your company. Encouraging them to join organizations such as the National Association of Women in Construction or Women's Affordable Housing Network is a great way for them to network within the industry and strengthen their skillsets.
Investing in women in the industry, and expanding opportunities for those who are interested is a win-win situation for all. 
Let's build better for everyone. Happy Women in Construction Week!