01 Mar

Our Zero Waste Journey

From zero energy to zero proof cocktails, zero is on the rise. Zero waste in particular has been on our team's mind lately, as we make moves toward becoming a "zero waste" office.

 

When we say "zero waste," we're talking about looking at the entire life cycle of the products we use and their net impacts on the environment and people's health. That means doing what we can to scale down the total waste we produce, as well as choosing products that are less toxic and resource-intensive. This also involves thinking about the energy, water, and other resources consumed  throughout a product's design, manufacturing, shipping, and disposal. 

 

How did we get here? As a company in the business of making buildings better for people and the planet, we began to ask ourselves – "What is our own impact? How can we best walk the walk?" With the average American producing more than 1,700 pounds of trash per year – a cumulative 239 million tons annually – how can we change our company practices to minimize our own waste footprint?

 

In tandem with our goal to become a Certified B Corporation by the end of 2023, we are evaluating our waste impact and how we can do better. We see this come up in two major areas: 1) our physical office and operations, and 2) clients and projects we work with.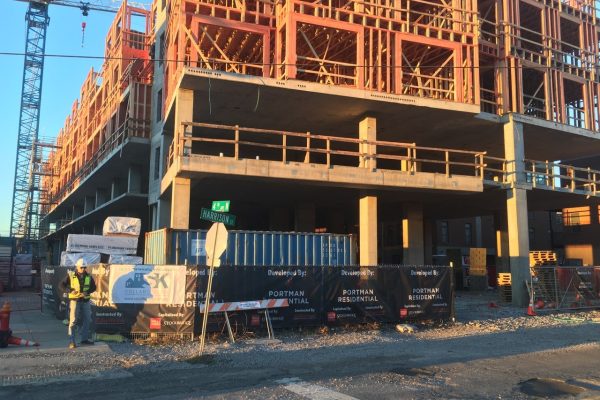 We're lucky that the bulk of our work – helping residential developments get green-certified – already comes with a certain amount of waste management practices. Here are the three most common strategies our clients use to reduce their construction waste.
1.Waste Diversion
Several of the green certification programs either incentivize or require diverting construction waste from the landfill. For example, one recent project certifying under Enterprise Green Communities – which requires that either 100% of two materials or 75% of all materials be recycled – saved 135 tons of waste from the landfill in just one month.
Other design-focused strategies help reduce the total amount of materials needed in construction. For example, techniques such as advanced framing allow contractors to reduce the amount of wood in buildings while maintaining structural integrity. Using a central cutting area during construction can also better facilitate the use of scrap wood.
2. Adaptive Reuse
Reusing and renovating an existing building is another zero-waste focused strategy we sometimes see. Adaptive reuse projects we've worked with – like The Lofts at Inman Mills in Inman, South Carolina and Sacred Heart at St. Bernard in New Orleans – were able to cut down in a big way on construction waste and resource demand by repurposing historic buildings. Broadstone Junction in Norcross, Georgia renovated the former WestRock packaging company headquarters into a loft and flat-style apartment complex. All of these examples made use of upcycled structures and materials and achieved green building certification in the process. 
3. Product Selection
Product selection can also factor into zero waste. Using pre-finished materials or prefabricated, panelized components reduces waste through a more efficient production process and climate controlled conditions. Panelized or modular designs that are easy to disassemble also make it easier to repurpose materials down the line.

Specifying Environmental Product Declarations that show products' cradle-to-grave impacts – which is a point option for programs like NGBS Green and Green Globes – is another way some development teams integrate zero waste into their projects.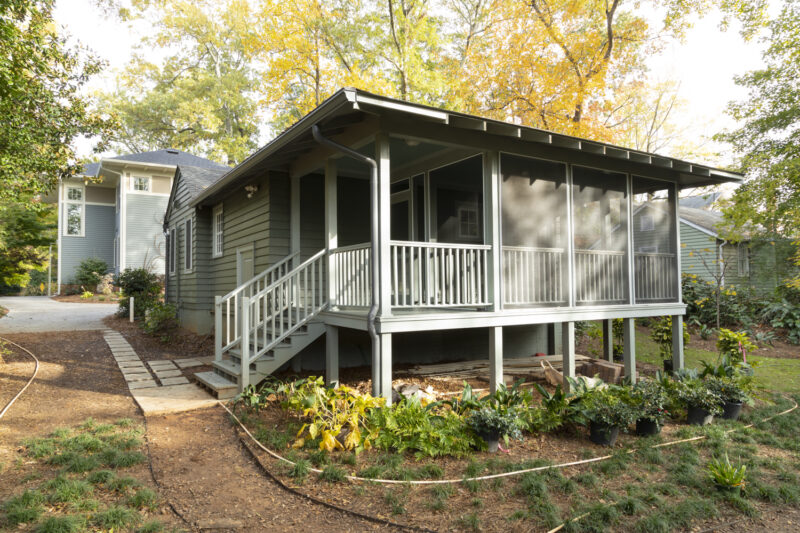 Just to backtrack a little – we didn't just start caring about our waste impact this year. In 2013 when SK cofounder Carl Seville renovated the home that's now our office, he contracted a craftsman to use reclaimed heart pine from old building materials. Certifying our office under EarthCraft that same year also meant less waste through building techniques that reduced the amount of materials needed for construction.
But now we're taking a hard look at our operations. These conversations have birthed several new staff-led initiatives we've been pretty excited to implement this past year.
Less Plastic
We replaced plastic juice and sports drinks bottles with aluminum cans of sparkling water – which are not zero impact but are far more recycled and recyclable than plastic. We also made a concerted effort to request no cutlery when catering office events and instead use reusable silverware. 
For offsite events where we can't get around using disposable cutlery, we try to order from local businesses that provide compostable cutlery and packaging.
Less Packaging
We used to purchase lots of individual serving snacks. Now we buy snacks in bulk and store them in giant glass jars. And all team members have reusable snack boxes!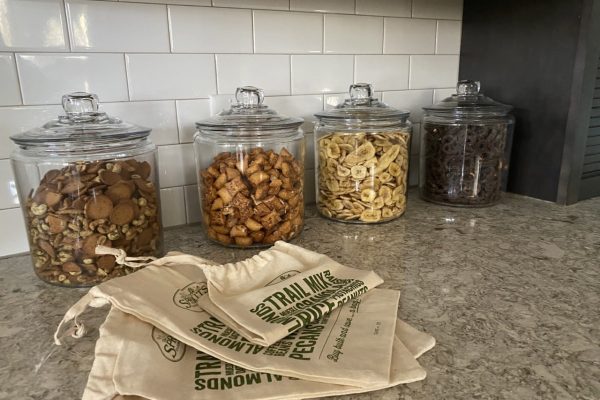 For drinks, in addition to seltzer cans, we've also started buying powdered drink mixes and Nuun tablets (which do have some packaging, but a lot less than premade drinks). 
Compost
We were stoked when our Marketing Manager, Sarah Kelty, volunteered to collect our office's food and packaging waste and compost it at home. We now have a small compost bucket in our kitchen that Sarah picks up every other week. 
Non-moldy food scraps, coffee grounds, and cardboard packaging usually go to the worms in Sarah's vermiculture bins.
 Everything else – meat, dairy, compostable packaging, paper towels, etc. – goes into another (non-worm) composting system in her backyard.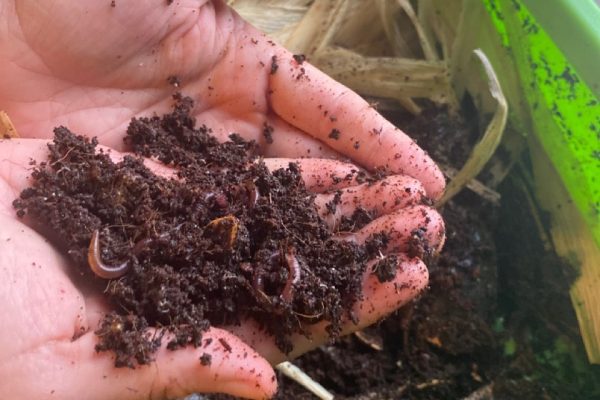 Side note: For anyone in Atlanta, Asheville, Charleston, Cincinnati, or Raleigh-Durham areas looking for a compost pick up service at their home or office, we recommend CompostNow. They've done a lunch and learn for us in the past and several of our staff have used their services. 
Hard to Recycle Materials
We were already recycling the usual stuff – paper, plastics 1 & 2, aluminum, batteries, and cardboard. But we added a recycling bin to the office for almost everything else, which one of our employees takes to Atlanta's Center for Hard to Recycle Materials whenever it gets full.
One of our owners, Carl, donated surplus building materials from his home construction to the Lifecycle Building Center in Atlanta, and he now serves on their Advisory Board. 
Waste Tracking
Last year, we started tracking our total office waste: recycling, compost, and pure trash. Here's where we landed for 2022:
Total Waste:  254.25 lbs
Garbage Waste: 225.5 lbs
Recycling: 28.4 lbs
Estimated Percent Improvement Over Previous Year: 1.28%
We didn't have a super high percent improvement since there was virtually no one in the office the year before (thanks to Covid). With all of the other practices we've started in the last year, we're hoping to see an even bigger improvement next year!
Pain Points
This journey to zero waste is far from over. There are still several areas of improvement for us to focus on in the coming years. Here are a few examples:
Tape
When testing duct leakage on our projects, we need to use a special tape to seal the entire HVAC system before we test. We have reusable duct covers for most openings but we do need to use a special low-adhesion tape for some areas. 
The amount of tape we use for this is not something to brag about but we do our best to limit how much we use. We haven't found a great alternative (comment or contact us if you have ideas!) but we generally encourage staff to use the least amount of tape possible when they're out in the field. 
Aluminum Cans
We go through a lot of cans of seltzer water. We've thought about getting a soda maker like Soda Stream, but a lot of the appeal of the cans is being able to pop in and grab one for the road, between field visits.
Working Offsite
There's only so much we can do when the majority of our employees are not consistently working in the office. Our work has always been well-suited for a hybrid work schedule. When our verifiers are called out to inspect a construction project, there aren't usually a lot of zero waste food options in the area. Many employees pack their lunches, but it's not really something the company can track or enforce.
Similarly, employees often spend at least part of their time working from home. While most of us try to be waste-conscious in our daily lives, having a complete picture of our team's total waste produced is a challenge when a lot of our work happens outside of the office.
What's Next?
Stay tuned for more updates on our zero waste, B Corp certification, and other Environmental, Social, and Corporate Governance (ESG) efforts!