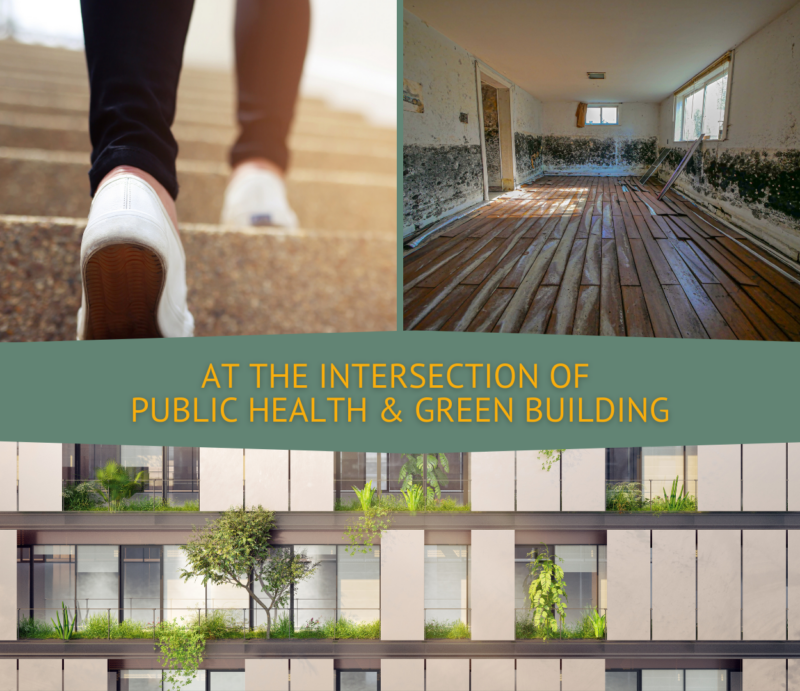 27 Jun

At The Intersection of Public Health & Green Building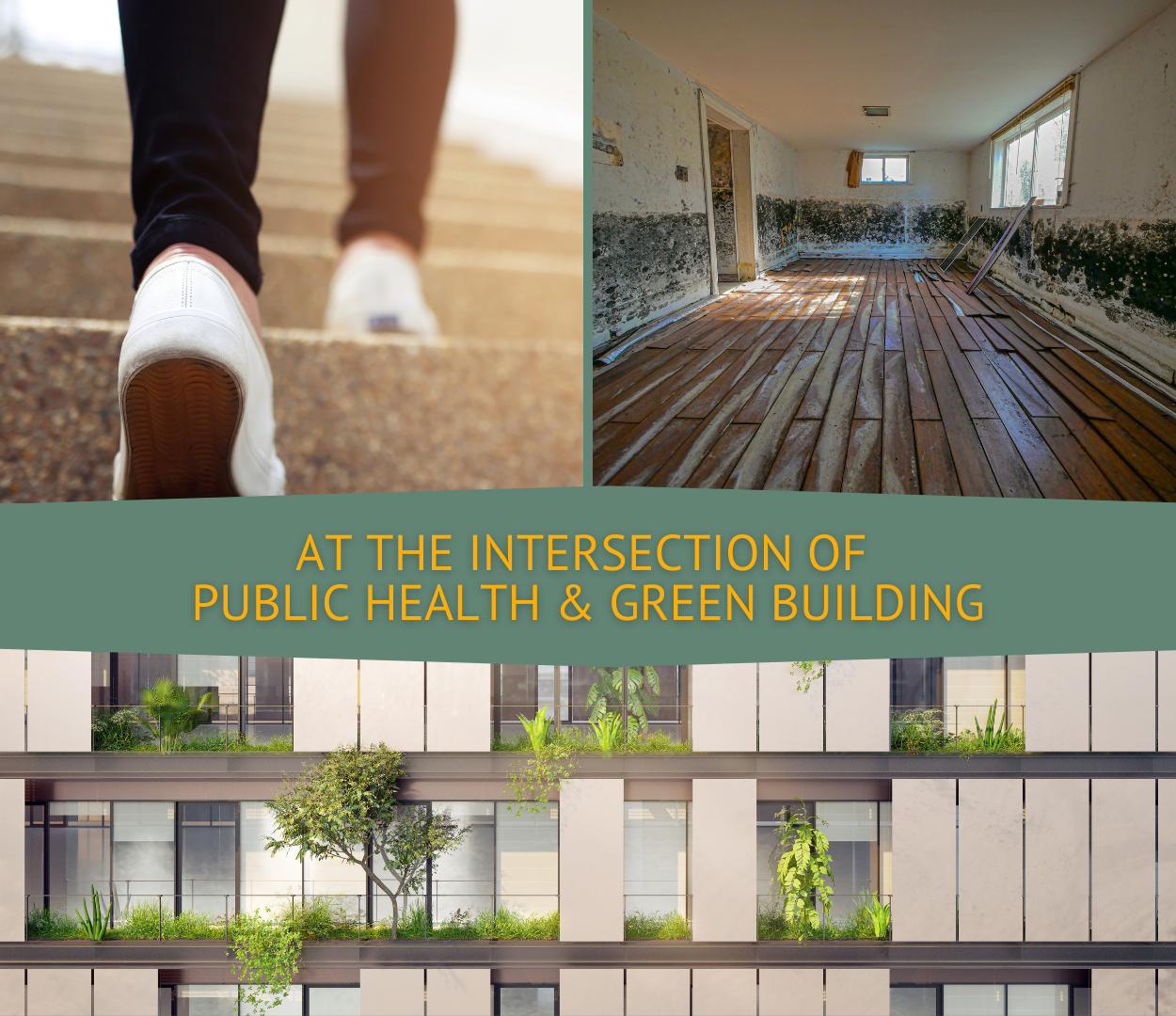 Have you ever lived in a house with mold or pest issues? Or worked at an office building that got too cold in the winter, even when you put the heat on? With the average American spending 90% of their time indoors, chances are that you've encountered a similar problem before. These issues could be caused by how your home or office is built, and they can have a direct impact on your health.
Low-quality buildings that have insufficient insulation and ventilation, poor moisture management, and high energy consumption can be hazardous – causing respiratory problems, thermal discomfort, financial hardships, and more. When we build sustainably, we also build for health and prevent many of these problems early on.
Health Trends in Green Building

"Green Building: Principles and Practices in Residential Construction" by SK Collaborative co-founders Abe Kruger and Carl Seville, describe green building as "a set of design, construction, and building operation practices that minimize a building's total environmental impact." With increased concerns around indoor health in the wake of COVID-19, many individuals and organizations are looking for ways to improve the buildings where people spend most of their time. But how exactly do sustainable building practices impact occupant health? 
Today, more and more green building certification programs emphasize the benefits to occupant health that come with building sustainably. Leading health-focused agencies and institutions (U.S. Surgeon General, CDC, American Institute of Architects, ODPHP, among others) agree that health and quality of the building are closely intertwined. For this reason, today's green building industry has adopted health as a core tenant. In fact, the World Green Building Council's first goal in green building is to "protect and improve health."

There is also a growing cohort of green building programs that put health at the front and center of their programs. The WELL building standard is a performance-based system with a mission "to improve human health and well-being through the built environment." Similarly, the Fitwel certification program is "committed to building health for all." These programs are only two out of many green building programs that prioritize occupant health within sustainability.
How Health & Sustainability Intersect in the Construction Process
Making a green and healthy home is a holistic process. High-impact green building starts from the planning stages of a project, when the design team critically assesses the planned site, building materials, structure and envelope, major systems, appliances, and other key components. Health and sustainability intersect at nearly every part of the process. From resource efficiency to indoor air quality and low-toxicity building materials, the strategies that make buildings better for the environment also improve public health. 
Below are some examples of this health-sustainability nexus that we at SK Collaborative have seen in our green consulting and certification work:
Building Air Leakage and Energy Efficiency
Some green building programs, such as Home Innovation Research Lab's National Green Building Standard (NGBS), include point opportunities for duct and building envelope air leakage testing, in which vertifiers diagnose how much conditioned air is escaping from a building and make air sealing recommendations. The tighter the building, the less heated or cooled air is lost, saving energy.
Tighter buildings not only lower energy demand for heating and cooling, they also have less draft and are more comfortable. Tight construction also has fewer pathways for pests and moisture to enter, which improves the health and safety of the home. 
Indoor Air Quality
Most of the certification programs we work with – LEED, NGBS, GreenGlobes, EarthCraft, and others – have point opportunities for indoor air quality strategies like using paints and carpeting low in Volatile Organic Compounds (VOCs), using higher rated filters, testing for radon, and adding fresh air ventilation to exhaust pollutants like moisture and combustion byproducts like carbon monoxide. According to research from the U.S Department of Energy, energy efficiency upgrades like the ones above can reduce the rates of asthma and respiratory problems through lower levels of "airborne mold, particulate matter, VOCs, and radon."
Active Living and Access to Amenities
Many programs also offer points for location and access to amenities. Fitwel awards points to buildings located within half a mile of at least three of the following amenities: food outlets, financial services, gym, recreation, leisure facility, or public transit stop. Other programs, like NGBS, encourage this practice with points for building a home or apartment complex with walkability or multimodal transport in mind. This not only cuts down on car emissions, but it also promotes walking, biking, and rolling to daily destinations, which increases occupant health and wellbeing.
City Club Apartments Kansas City Crossroads features an outdoor courtyard with a kitchen, restorative garden, dog park, and walking trail. This 2021 Multihousing Housing News Excellence Award-winning mixed-use community is National Green Building Standard (NGBS)-certified with an additional Fitwel certification underway. 
Income Inequality Drives Health & Sustainability Issues 
Although the negative effects of poor building practices can threaten anyone, there is a particular need for green building in vulnerable populations. Lower socioeconomic groups are disproportionately affected by low-quality housing with frequent mold, toxic materials, lack of access to fresh food hubs, and high utility costs. This, in turn, increases the risk of poor health, food insecurity, and economic distress.
Poor indoor environmental conditions can lead to higher rates of asthma, already more common in low-income individuals, and may result in respiratory complications. Higher utility costs from energy inefficiency cut into the finances of low-income families and individuals, creating an additional barrier to accessing healthcare and raising levels of stress – affecting mental and physical health. 
For these reasons, many states now require or incentivize green building practices as part of their Low-Income Housing Tax Credit (LIHTC) programs. These states recognize the link between quality of housing and exacerbated health and financial complications for residents who are already vulnerable.
In Conclusion… 
When we build sustainably, we build for quality, durability, efficiency, and most importantly — health. As we move toward a future focused on sustainability and public health, green building will be an essential pillar in mitigating both health hazards and climate change. 
Interested in learning more? Contact us today for a consultation or overview of our healthy housing services.